Welcome to St. Demetrios Greek Orthodox Church
The mission of our web site is to provide an instant and accessible forum of information about our parish, its families, our culture and our faith, Orthodox Christianity. It is intended to be educational, informative and spiritual, with the ultimate goal being the spreading of His Word.
We welcome all resident and non-resident Orthodox and non-Orthodox faithful to our church and invite you to join us for altar services, educational programs and events.
St. Demetrios Mission Statement
"To proclaim the Gospel of Christ in the Orthodox Christian Tradition while creating a vibrant, loving, compassionate and supportive community."
CLICK HERE to Register for the 2016 GOYA Lent Retreat:
The Amazing Race-Seattle

A vibrant Missions and Evangelism ministry in every parish is a goal of the Metropolis of San Francisco Strategic Plan. As part of the process in furthering this effort, Thomaida Hudanish, the full-time Assistant Director of the Metropolis Commission for Orthodox Missions and Evangelism (C.O.M.E.), conducted a workshop for the parishes of the Puget Sound region on Saturday, January 30 at the Church of the Assumption in Seattle.
Participating in the workshop were clergy and laity from Assumption and St. Demetrios Churches in Seattle, Holy Apostles in Shoreline, and St. Nicholas in Tacoma. Ms. Hudanish outlined the benefits of a Missions and Evangelism ministry which include "increases in membership and participation, parish and personal spiritual maturity, Stewardship, and an overall Mission mindset in the parish."
Seven basic components of such a ministry include a Welcome Ministry, In-reach and Adult Education, Increasing Parish Visibility, Mochas for Missions which is the annual fundraising drive in support of C.O.M.E., a Bookstore, Outreach Events, and an Orthodox Christian Mission Center Ambassador.
Workshop attendees also shared examples of programs in their parishes that are working well and areas of challenge that are faced. For more information a Missions and Evangelism Ministry in a parish and about the work of C.O.M.E., go to www.come-sf.org
"Teens and pre-teens from St. Demetrios and Assumption once again returned to Camp Angelos for the annual Northwest GOYA Youth Retreat. Joining them was the lively youth group from Holy Trinity and St. John the Forerunner in Portland, who hosted the event.
"In addition to being blessed with sunny (though fairly cold) weather, campers this year were treated to "Be the Bee's" very own Steve Christoforou, whose presentations invited campers and counselors alike to deepen their relationship with God through stillness, prayer and community.
"When not engaged in thought-provoking discussions about the Faith, campers enjoyed Greek dancing, fasting-appropriate (and very well-made) meals, an eclectic talent show (with a surprise ending) and, of course, each others' company. When it was time to return to Seattle, the Portland campers bid farewell to their friends by lining the road and waving until the northbound bus was out of sight. God willing, they will see each other again at this spring's GOYA retreat in Seattle, if not sooner.
St. Demetrios is hosting an Amazing Race Lenten Retreat for all GOYAns in April 1-3, 2016 and we are looking forward to hosting the youth of Washington and Portland Orthodox parishes.

eNews - View our online weekly parish enewsletter
THE ORTHODOX WAY - Our Monthly Newsletter
Great Vespers, Small Compline
& Canon of Preparaton for Holy Communion
Saturday Evening, 5:00PM - 6:30PM
Sundays: Orthros (Matins): 8:15AM - 9:30AM | Divine Liturgy: 9:30AM-11:30AM
PLEASE NOTE: The above service times are subject to change. For the most up to date schedule, please see the Parish Calendar or call the Church office at 206-631-2500.


The Orthodox Marketplace - The official online store of the Greek Orthodox Archdiocese of America

Share the Orthodox Christian Faith with an Iconogram

Find us on Facebook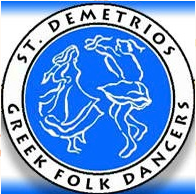 Register for our dance program