Welcome to St. Demetrios Greek Orthodox Church
The mission of our web site is to provide an instant and accessible forum of information about our parish, its families, our culture and our faith, Orthodox Christianity. It is intended to be educational, informative and spiritual, with the ultimate goal being the spreading of His Word.
We welcome all resident and non-resident Orthodox and non-Orthodox faithful to our church and invite you to join us for altar services, educational programs and events.
St. Demetrios Mission Statement
"To proclaim the Gospel of Christ in the Orthodox Christian Tradition while creating a vibrant, loving, compassionate and supportive community."
ALL SAINTS CAMP REGISTRATION IS OPEN. Visit www.allsaintssummercamp.info

Congratulations to all of our dancers, singers and directors for doing another incredible job representing our community at the 40th annual Folk Dance Festival in Anaheim, California.
One third of the FDF management team consists of young adults from St. Demetrios and Assumption and two of our own were honored with the Metropolitan Anthony Leadership Award. Congratulations to
Christine Karambelas
and
Alex Schwenke
for their outstanding gifts and contributions to FDF and our church. Another asset to our community,
Niko Antonopoulos
earned the
Niko Varviziotis award for being an outstanding dance director.
High School Senior, Theodore Looney was awarded the The Katherine Velthoen Memorial Scholarship. Each year FDF awards five scholarships to highly motivated individuals that demonstrate the drive to succeed, the ambition and desire in their quest for a college education and commitment to FDF and their community.
Congratulations Theodore, Niko, Alex & Christine! Our dancers and singers were equally
successful
.
In Division 1, Akrites earned the Founders Special Achievement Award and the Costume Award in the Advanced Senior category. Souliotes swept the Intermediate category winning 1st place, the Choral Award and Costume Award.
In Division 2, Akritakia, (pictured above) delighted the audience with their kefi and won our hearts in the Primary category. Spartiates earned 4th place in the Advanced Junior category. Our choral group, Ta Aidhonakiatook home 3rd place in the choral competition.
Congratulations to our
Kardoules
for a job well done in the non-competitive division 3. They had the honor of dancing for Metropolitan Gerasimos and all the dancers their age from around the Metropolis.
We wish to also congratulate Levendya from Church of the Assumption for wonderful performances in the Advanced Intermediate category.
Click the links below to view the performances,
Many thanks to George A. Tramountanas for the great videos.
Some of our 4th grade Sunday School class visited the Philanthropia house to deliver flowers for Valentines Day. Thanks kids for the wonderful surprise!

eNews - View our online weekly parish enewsletter
THE ORTHODOX WAY - Our Monthly Newsletter
Great Vespers, Small Compline
& Canon of Preparaton for Holy Communion
Saturday Evening, 5:00PM - 6:30PM
Sundays: Orthros (Matins): 8:15AM - 9:30AM | Divine Liturgy: 9:30AM-11:30AM
PLEASE NOTE: The above service times are subject to change. For the most up to date schedule, please see the Parish Calendar or call the Church office at 206-631-2500.


The Orthodox Marketplace - The official online store of the Greek Orthodox Archdiocese of America

Share the Orthodox Christian Faith with an Iconogram

Find us on Facebook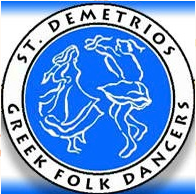 Register for our dance program